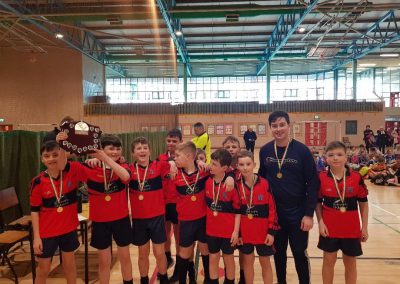 Meath Finals
It was another successful day for St. Paul's Olympic Handball teams in Gormanstown College with all four of our teams having reached the Meath Finals. Each team started with a semi-final game. First up, our U11 girls' took on Skryne N.S. The game was a very close encounter and St. Paul's displayed some great skills but were unlucky to lose out to very strong Skryne team who went on to win the Final. The U11 girls played Yellow Furze N.S. in the play-off game for 3rd place and played their hearts out to earn 4th place. Our U11 boys faced St. Ultans N.S. in their semi-final game and played with great skill to secure their spot in the final. The boys then went on to play Yellow Furze N.S. in the final in what was to be the match of the day. Both teams showed great skill, determination and passion throughout and at the final whistle it was a draw. With extra time looming the boys knew they had to give it their all but finishing all square at the end of extra time with neither team willing to relent, the game went to penalties. With great saves from Daniel Foster and a terrific score by Michael Ward the boys won a very hard fought contest to be crowned Meath Champions and qualify for the Leinster Finals. We are all so proud of the team and their coaches.
Our Senior Teams were up next to play St. Ultans N.S. in their semi-finals. With a great display of teamwork and skills the boys and girls secured their victories and a place in the Meath Finals. For the U13 boys the Final was very fast paced with both teams displaying great skills and passion. The boys were unlucky to be beaten and came 2nd in Meath and qualified for the Leinster Finals.
Our Senior Girls Team met Yellow Furze N.S. in their semi-final. Both teams showed great skill with end to end goals. This final also ended in a draw. With the game going to extra time the girls showed great passion and determination and went two ahead in extra time. The girls defended ferociously to try and secure their win and in the dying minutes Yellow Furze scored a goal but it was not enough. The girls defeated Yellow Furze by the narrowest of margins to become Champions of Meath and also qualify for the Leinster Finals. We are so very proud of all the children and the work they put in to reach the Meath Finals and now the Leinster Finals. Thank you to all their coaches for giving up their time to train their teams. The Leinster Finals take place on March 10th.